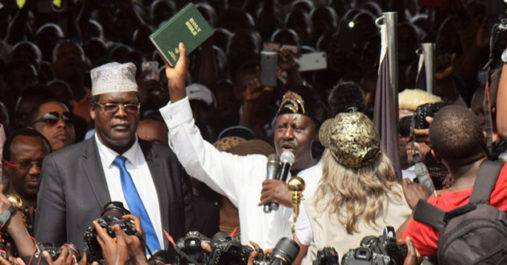 TV channels turned blank on Tuesday from around 09:10 local time in Kenya when main opposition leader Raila Odinga sworn-in declaring himself as the people's president in the capital city Nairobi amid thousands of supporters.
Odinga boycotted the last presidential election and Uhuru Kenyatta sworn in for a second term in November 2017.
Elections in August was dismissed by the court saying the victory of Kenyatta was marred by irregularities. The re-run was held in October.
Odinga was seen holding a Bible in his right hand while swearing as people's president and saying people had enough of election rigging and his move is to establish a proper democracy.
The leader turned up for about twenty minutes at a park in Nairobi and signed a statement. He took oath and left the stage. Supporters were kept wondering why the event was such a low-key affair.
Odinga's deputy Kalonzo Musyoka didn't turn up for the event and it is being said there is divisions in his party.
One of the supporters, Larry Oyugi, said they have gathered to exercise their powers and abiding to article 37 that allows peaceful assembly.
Earlier it was warned police may not allow the event to take place.
Schools were closed on Tuesday amid tensions in most parts of the country.